What I've Been Working On
Youth Power Coalition
Youth Power Coalition's birthday is February 27th, 2020. We're one year old! How incredible is that? In one year, we grew from six working team members to more than twenty. We were featured on CBS for our strike for safer school reopening. And, we've implemented radical organizational practices like governance by consent. In 2021, we will mobilize resources for youth-led collective impact initiatives, create training on intergenerational leadership, and develop a blueprint for developing systems change initiatives. Systems change is when we shift the "conditions that hold a problem in place." It consists of transforming all of these aspects simultaneously: policies, practices, resource flows, relationships and connections, power dynamics, and core beliefs. (Read about the Six Conditions of Systems Change in Youth Power Coalition's Learning Library).
It continues to be thrilling to be working in community with a dedicated team after years of going at it as a solo founder. We have a team of co-founders and new members instead, and the collective brilliance is just humbling. Meet two of our team members below.
One of the things I'm most proud of is that we have truly built Youth Power Coalition to be different. We're supermajority Black and people of color and supermajority young people. We embed our values in everything we do, from having completely transparent meetings (here's our board/mission circle notes) to prioritizing relationships first. To quote my significant other, Mike Boyle,
This spring, we're working on creating
Info sessions so new people can learn about Youth Power Coalition
Co-creation sessions that bring young people together to dream of a future where young people have decision-making power in all spaces that impact them
Business practices that include recurring financial contributions, transparent and distributed budgeting, and anti-capitalist forms of financially supporting organizers
And much more! The beauty of shared leadership is that there's no limit to the amount of brilliant work that is happening.
I hope every one of you is already subscribed to our quarterly newsletter and following our social media. If you're not yet, please choose the platforms that are best for you. ❤️
Sign up for our mailing list: www.youthpowercoalition.org
Follow our Instagram: instagram.com/youthpowercoalition
Follow our Facebook: facebook.com/youthpowercoalition
Mutual Aid NYC
I'm also coordinator of our Community Resources Library at Mutual Aid NYC. I am similarly proud of our team here for making resources available to New Yorkers accessible, organized, and open-source. Once in a while I think, there are already so many resource libraries out there, and by organizations that are funded whereas Mutual Aid NYC is not, what is it that we specifically are doing differently? The answer is that we are committed to the practice of mutual aid not charity. We will only add resources that are safe for our communities. We will use our platform to connect values aligned groups with one another. We will build in an open-source way that allows a whole network of people to contribute. I've learned in my years of entrepreneurship is that its the core beliefs of a team that will ultimately drive the direction any effort takes.
We need help, though, especially in the areas of funding and tech. If you can connect me with Black, Indigenous, and/or people of color (BIPOC) who would like to explore contributing to this project as a software engineer or grant writer, I'd really appreciate it!
Mutual Aid NYC has also served as a testing ground for me when it comes to developing my own leadership.
I'm used to practicing co-creation, making space, being patient. I realized though, that I've only organized in spaces where I often have a degree of privilege, such as BIPOC spaces where I have light-skinned privilege, cross-class spaces where I may have grown up poor but now have professional middle-class experience, and intergenerational spaces where I'm an adult. At Mutual Aid NYC, I've been in majority white spaces. I learned that in these spaces, I actually need to take up space and push for action instead of having infinite patience. I let institutional racism and classism impact me for way too long. I'm committed to dialing my tolerance for this way down. I've responded by reclaiming my time and energy from the work at Mutual Aid NYC that was harming me and investing it instead in work that has been nourishing, primarily the Community Resources work.
In some ways, I'm glad I learned this lesson. I will need to be in majority white and class-privileged spaces many times in the future. I will need to practice taking up space. Most importantly, I hope that this will help me be even more sensitive to really hearing what people are saying in spaces like Youth Power Coalition.
The article that helped me make sense of what I experienced is Solutions Privilege: How privilege shapes the expectations of solutions, and why it's bad for our work addressing systemic injustice, by Vu Le.
Solutions privilege is "the privilege of expecting easy and instant solutions that would align with one's worldview and not challenge one's privilege"
Here's an example of solutions privilege in action.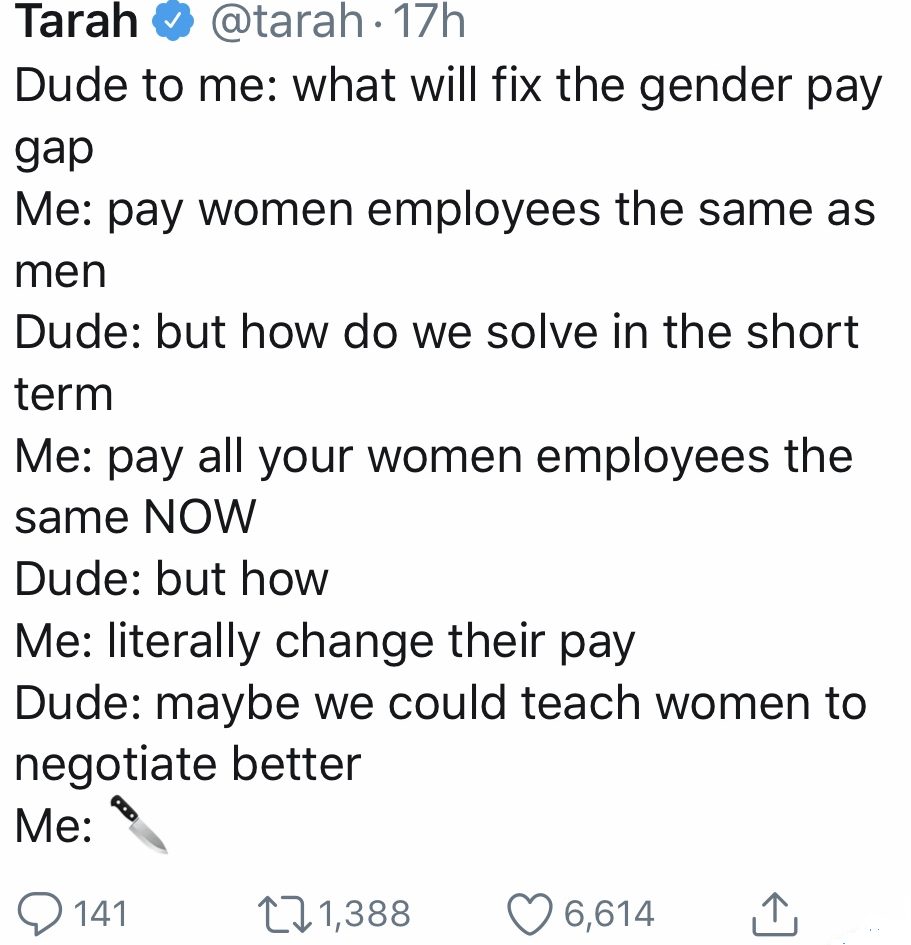 I myself will not be immune to solutions privilege, but I can try my hardest to recognize, name, and then stop myself from exercising it.
Finally, I do have hope that Mutual Aid NYC can change — I'm seeing people at Mutual Aid NYC moving in the direction I laid out months ago, specifically around needing to mobilize financial resources for the work and needing to make governance (how we make decisions), clear and accessible. Let's see what happens.
Sociocracy for All
I'm now a member of Sociocracy for All's Mission Circle and a student in its Sociocracy Academy. I cannot begin to tell you how much I love Sociocracy for All's community, ethos, and work.
Sociocracy for All's mission is to make resources for learning and implementing sociocracy accessible to all. That begs the question, of course, of what is sociocracy?
Sociocracy is a system of organization-wide decision making that is rooted in "helping everyone be heard, bringing our whole selves to our activities and collaborations, and making decisions smoothly and quickly" (read more at What is Sociocracy?). Elements of the system include small groups making decisions by consent while linked to the wider organization through structures that allow everyone to have the information they need to participate. We practice sociocracy at Youth Power Coalition and I'd like to see Mutual Aid NYC adopt sociocracy as well.
My focus at Sociocracy for All is on pairing sociocracy with equity. As much as I love sociocracy, I also see how current sociocratic practices need to evolve to live up to its potential of being a decision-making structure that enables equity to flourish.
I'm currently drafting this article on governing equitably. I was also struck by these insights on meeting facilitation and leadership from Missing Class, a really thought-provoking book on how class cultures affect the facilitation of decision-making and orientations towards leadership.
"Because professional and managerial occupations involves speech as a central work activity, activists from professional middle class backgrounds may tend to stress participants' amount of speech in meetings as a primary indicator of a central role in the group, as opposed to the amount of work performed, amount of insight knowledge, or closeness of relationships."
"While activists from class privileged backgrounds were more likely to be monitoring who was talking up how much taking up how much airspace, working-class activists are more likely to be monitoring trustworthiness and dedication to the cause, as expressed, primarily in actions, not words."
Read more quotes in this transcript.
Learn how Missing Class defines class (and it's not by income).
If you're someone who has always wanted to be in organizations that are not about command and control or top down decision-making, I highly recommend that you check sociocracy out.
My Priorities of Funding, Governance, and Recruitment
In my last review, I wrote that I would be prioritizing sustainability. I've since broken sustainability down into these priorities: funding, governance, and recruitment when it comes to work. I do this so that I can say "no" to anything that isn't within these priorities. Unfortunately, I have not been as successful with saying "no", so I'm going to use this opportunity to write out what I need to keep doing and what I might start doing to get me to a more sustainable pace of work.
This is what I have been doing successfully.
Tracking where I spend my time! It's important to not just have the general feeling that I'm working too much, it's important to have the actual numbers. By tracking my time, I'm also able to reflect on where I need to spend more energy and where I need to retreat. For example, I recently decided that I've been attending way too many leadership development webinars and courses. I need to refocus my leadership development time on my priorities too, as much as I love learning anything and everything.
Bringing to my teams when I'm feeling overwhelmed so we can solve things together! At Mutual Aid NYC, our Community Resources team has moved to rotating facilitation and coordination meetings only once every two weeks. It's been a pretty relaxing month.
Being more aware now of what level of leadership I'm working at. Am I working at the level of How (day to day implementation), What (projects management), When (strategy and priorities), or Why/Where (big picture)? This framework is from Visionary CEO Academy, and I've found it the most helpful leadership framework I've seen yet to help me understand what power I've been holding on to and what power I need to let go. Being a solo founder meant that I had to work at all levels on everything at once. As co-founder and team member, I now need to be transparent with what level each person is working at and then trust and let go. I still have more to do here, but having the framework itself is already really helpful.
Meanwhile, this is the big thing I need to start doing.
Being comfortable with not doing something I know needs doing because we just don't have the capacity to do it. It's okay. Let it go. We'll be all right.
If any of you have tips on how to truly let go, I would greatly appreciate it.
I am making progress on the priorities I mentioned. In funding, Julisa Perez, Youth Power Coalition's Business Lead, has really come into their power in facilitating our growth as resource mobilizers while I've been working with some incredible people to think through how to financially support youth power coalition organizers. In governance, I have a breakthrough every week due to being a student in Sociocracy Academy and having the support of Eric Tolson our sociocracy consultant. And in recruitment I, just this morning, read this quote that made me realize how it is that Youth Power Coalition can recruit sustainably.
I am still feeling incredibly overwhelmed, but I trust in my community and my love of learning to pull me through.
In Short
It's been an intense half year, but it's been a good one. Let me know how you all are doing. I imagine it's been an intense half year for you, too.
With love and gratitude,
Deborah